Image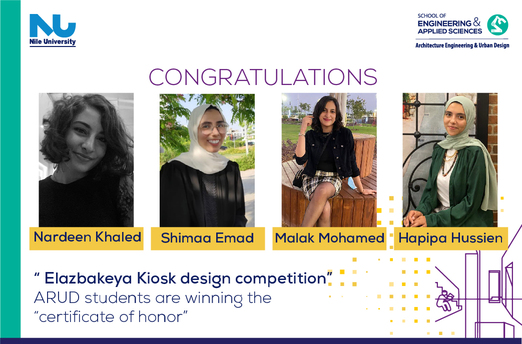 ARUD Students Winning at the Elazbakeya Kiosk Design Competition
Elazbakeya Kiosk design competition - ARUD students are winning the "certificate of honor".
The student competition to design the kiosks in the surroundings of Elazbakeya Park is organized by the National Organization for Urban Harmony, the Ministry of Culture, the Ministry of Housing, Utilities, and Urban Communities, and the Ministry of Higher Education and Scientific Research.
It is a nationwide architecture student competition and ARUD students have been shortlisted with 3 projects out of 187 projects nationwide.
One group won a "Certificate of honor" in the last selection among the final 13 projects.
Competition team:
Supervisor:
Participants:
Nardeen Khaled
Shimaa Emad
Malak Mohamed
Hapipa Hussien